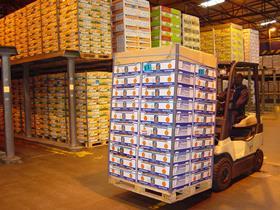 South African pome fruit growers are eyeing opportunities to extend their footprint in Asia outside the major consumer markets of China and India, but they may well be restricted from make full use of these opportunities because of logistical costs.
Senior sources in South Africa's deciduous fruit sector have for the first time revealed what the cost of delays and logistics disruption may come to.
Hortgro director Anton Rabe said that the price tag for dealing with results of delays may well exceed 10 per cent of the expected export value of apples, pears and stonefruit.
These export industries ship fruit to the value of around R12bn every year and a 10 per cent loss will exceed R1bn.
Sources in the stone fruit business have indicated that some growers who have shipped to Europe and experienced transit times of some eight weeks may not be able to survive the blow.
If it is difficult to get sensitive products into the UK and Europe, it is in many cases even more difficult to supply Asia.
The dilemma for the export industry is that because of this they may not be able to access and take advantage of new markets to the extent that they may want.
"We are excited about new opportunities in the east but taking advantage of these new opportunities depend on us also doing well in our traditional markets," said one exporter.
Rabe said the calculation was based on delays at ports and fruit reaching its destination when close to the end of shelf-life and out of protocol.
"There is great damage to our country's reputation as supplier of top-quality products,' he explained. 'However, we must also realise that we are not the only fruit growing exporting countries who have to deal with delays and congestion. Industries in other countries also suffer but it seems that our situation is getting worse."
Stonefruit exporters said the industry had invested a great deal of money in recent years to introduce systems that delivered better tasting and quality plums to the Europeans, specifically to Germany where the country found it hard to compete with other suppliers.
"We just hope that our customers do not judge us on what happened this season with our arrivals – which will ruin all this work," he continued.
Rabe said it was imperative that the present port situation was handled with as little further damage as possible.
"We are therefore involved on a weekly basis to see what can be done in our ports to improve the situation."
Reports have said that some loading cranes at the Cape Town Container Terminal had been out of action for some time with no repair work being done.
In some cases, container vessels must wait outside the port for up to two weeks. Similar decay is reported from other ports with harbour cranes in disrepair for months at a time.
"The long-term solution," said Rabe, "is to try and get public and private sector partnerships that will separate operations from the control of landlords."
This would effectively mean the privatisation of the ports and this, said the exporting fraternity, would bring efficiencies back to port operations.