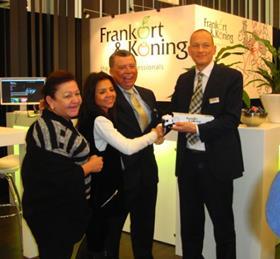 Frankort & Koning and Agrolibanohave cemented their new partnershipby providing €5,000 in financial support for the foundation of the San LorenzoChildren's Hospital in Honduras.
"We are verysatisfied with this cooperation – for us, it's the ideal continuation of our Brazilian programme with Agricola Famosa," said Leon van den Hombergh, managing director of the Venlo-based import-export company.
By developing a closer relationship with Honduran specialist melon producer Agrolibano, F&K aims to contribute to greater control on the continental Europe melon market.
"The melon market has been problematic in the last few years but this season proves that the markets are willing to pay higher prices when volumes are more controlled," explained Mr van den Hombergh.
"For us, it is also important to avoid unnecessary costs, and to enable maximum returns to the growers."
Mr van den Hombergh said the deal, which was struck at Fruit Logistica last month, is also F&K's way of expressing its positive attitude towards the Molina family, which owns Agrolibano.
"It shows that there is more than just business in our world," he noted.