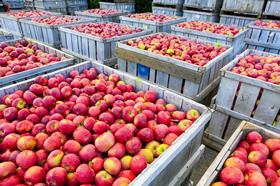 The World Apple and Pear Association (WAPA) has released the stock figures from 1 February 2022, with apple numbers rising but pears tumbling compared with the previous year.
The numbers showed that in Europe, apple stocks increased by 7.2 per cent to reach 3.6m tonnes, while pear stocks decreased by 30 per cent to 408,340 tonnes.
This was mainly driven by increases in Red Jonaprince (up 35.9 per cent), Golden Delicious (up 22.5 per cent), Gala (up 19.9 per cent) and Jonagold (up 17.2 per cent).
Several varieties decreased, including Cripps Pink, which fell 17.3 per cent, and Granny Smith which was down 13.2 per cent.
A fall in pear stocks was attributed to a decrease in Italian volumes, which slid 83.2 per cent year-on-year.
In the US, apple stocks stood at 1.48m tonnes, down 0.8 per cent compared to 2021, while pear stocks reached 149,553 tonnes, growth of 31.9 per cent.
WAPA noted that apple stability in the US was due to the fact that Granny Smith's 26.9 per cent increase compensated for a decrease across several large varieties, such as Fuji (down 19.1 per cent), Red Delicious (down 12.6 per cent) and Gala (down 9.3 per cent).