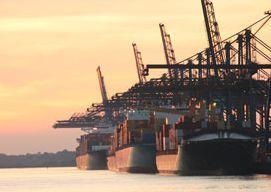 Retailers, shipping and haulage companies have complained of 'chaos' at Felixstowe Port in Suffolk, affecting goods in the run-up to Christmas, reports the BBC.
The owner, Hutchison Ports, blames pre-Brexit stockpiling and the pandemic, and freight manager Matt Hudson warned that 'if the chaos continues, increased shipping prices will be passed on to consumers', the article said.
Hudson, whose company distributes goods picked up at the port, told the BBC that containers were being left on the quayside because haulage companies could not book a slot to enter the site.
'It's delaying freight going into shops for consumers to buy,' he said. 'Shops are struggling anyway at the moment because of the impact from the coronavirus. If retail outlets can't sell what is actually en-route at the moment in time for Christmas, potentially they could lose even more money than they have done already this year.'
Part of the problem is a shipment of 11,000 containers of PPE ordered by the government that is clogging up the port, the BBC said.
This news comes as many fresh produce firms consider how to beat the Brexit transition deadline and get their volumes to the UK and Europe ahead of 31 December when trade barriers potentially kick in.