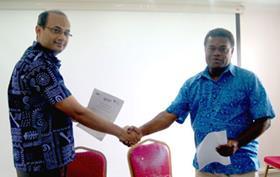 Export development efforts in Fiji's agricultural sectorare set tobenefit from ta recently formed partnership between the European Union-funded Increasing Agricultural Commodity Trade (IACT) project and the Market Development Facility (MDF).
The two partners recently signed a memorandum of understanding (MOU) to enable them to seek opportunities for synergies, collaboration and cross-programme learning to maximise effective development outcomes.

The IACT project works towards strengthening the export capacity of the agriculture, forestry, aquaculture and livestock industries in Pacific ACP (African, Caribbean and Pacific) countries.
The project, which is implemented by the Secretariat of the Pacific Community, supports 44 enterprises across the Pacific -11 ofwhich are located in Fiji.
Both IACT and MDF agree that the partnership will help businesses take advantage of export opportunities, promoting more inclusive growth.
'This partnership is crucial in strengthening our combined engagement for the enterprises we serve in Fiji,' said Samu Turagacati, Team Leader of the IACT project. 'It will help fast-track key developments so that benefits are realised early.'