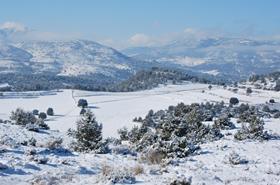 A cold snap sweeping through Spain is set to cause shortages in fruit and vegetable crops in the coming weeks.
Storm Filomena has brought record low temperatures, covering much of the country with heavy snow and leaving at least four people dead.
According to Fepex, provinces with extensive vegetable acreage such as Almería and Granada will see a fall in production of tomatoes, cucumbers, courgettes, aubergines and peppers due to a reduction in yields.
Almerian producer association Coexphal said farmers are unable to harvest their crops and there is not enough volume entering warehouses to allow them to fulfil all their orders.
January is one of the peak months for Spanish fruit and vegetable production, with exports reaching up to 1.3m tonnes.
Coexphal said the intense cold has paralysed plant and fruit growth, and could cause irreparable damage as the cold snap continues.
Inland areas are believed to be the worst affected due to night time temperatures falling well below freezing.
Elsewhere, early indications suggest that damage to production in coastal areas has so far been localised.
In Valencia, the Unió de Llauradors union said the snow has been beneficial for most crops as it has helped replenish water reserves, cleaned fruit trees against possible pests and helped indoor crops accumulate the necessary chill hours.
Another union's AVA-Asaja, said the storm has caused isolated damages in seasonal vegetables such as artichokes, broad beans, cabbages and lettuces, as well as in some late varieties of oranges and mandarins.
With the cold snap expected to last until Thursday, it is feared that shortages in some vegetables will become more acute in the coming weeks and prices will rise as a result.