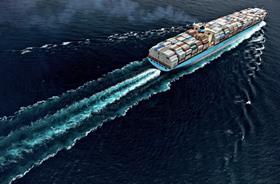 Shipping giant Maersk Line has turned in an underlying result of a US$80m loss for the opening quarter of the year, down from a profit of US$32m in the same period of 2016.
According to the group, an average freight rate increase of 4.4 per cent did not fully compensate for the 80 per cent increase in bunker price.
Despite this, the group noted that market fundamentals had 'continued to improve' in Q1 and demand had outgrown nominal supply for the second consecutive quarter. with revenues up.
Transported volumes increased by 10 per cent, partly because of improved demand but also reflecting an increased market share.
On a wider scale, the parent group - AP Møller-Maersk - delivered an underlying profit of US$201m, in line with same quarter last year.