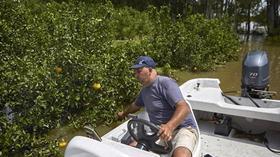 Producers in South America are counting the cost of the worst flooding in 50 years following weeks of heavy rain brought on by El Niño. Tens of thousands of hectares of agricultural production in Argentina, Uruguay, Paraguay and Brazil have been affected.
The Agricultural Federation of Concordia said between 12,000 and 14,000ha of citrus groves in the province of Entre Ríos are underwater after rivers burst their banks. Small producers are believed to have been the worst hit.
Several people have died and thousands more have been evacuated in the border city of Concordia, where the Uruguay River was at one stage 14 metres above its normal levels.
Director Sebastián Cuberli said while the province's citrus production had suffered extensively, blueberry production has not been affected as it was "mostly out of the reach of the flood water, except for the few farms located near to streams or rivers".
With many areas still under water, it is too early to calculate the cost of the damage to fruit production. Elvio Guía, president of the Agricultural Federation of Entre Ríos, said water levels were expected to peak in the locality of Diamante on 8 or 9 January. He called on the regional government to declare a state of emergency so that producers could start the process of applying for compensation.
Scientists at NASA are warning that the worst of El Niño could be yet to come. The latest satellite imagery shows that the weather phenomenon shows no sign of weakening and may end up being more intense than the 1997-98 El Niño, the strongest ever recorded.