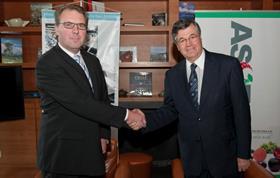 Maersk Container Industry (MCI), the container manufacturing arm of the AP Moller-Maersk Group, has announced that it has signed a memorandum of understanding with Chilean fruit exporters association ASOEX to ensure that more food makes it from farm to fork.
'Good food should always move all the way from farm to fork,' said Peter Nymand, CEO of the MCI Group. 'Our ambition is to unleash Chile's export potential and avoid waste of food.'
As part of the tie-up, input from Chilean exporters will help MCI design better reefers,while MCI's expertise will help ASOEX members make the best use of new hi-tech reefer containers built in Chile.
Food waste is not a problem especially linked to exports from Chile. Astudy from the UN food organisation FAO has concluded that in Europe, close to 50 per cent of all fresh produce fails to make it to the plate, with transportation time just one of many reasons why food goes to waste..
'The world cannot afford this, and we have technologies that can helpout,' Nymand explained. 'For example, if you learn to control the atmosphereinside a container, you will be able to ship fresh fruit and produce longer and farther than before.'
Ronald Bown, president of Asoex, added: 'It is not easy to keep fruit at optimal conditions during transportation, so we hope to contribute with our technical and operational knowledge.'
Maersk Container Industry is on track to build a new US$170m reefer factory in San Antonio, Chile, with the new reefers expected to become available to exporters along the West Coast of South America in early 2014.