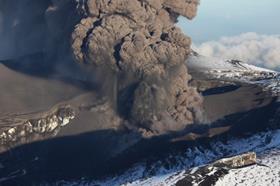 Airfreight operators are evaluating contingency plans as to deal with the disruption caused by a threatened eruption from Iceland's Bardarbunga volcano.
Although the Icelandic Meteorological Office lowered the warning level to aviation from red to orange on Sunday, it said there were no indications that seismic activity is slowing down and that "an eruption cannot be excluded".
Freight forwarders are anxious to avoid a repeat of the fallout from the eruption of the Eyjafjallajokull in April 2010, which caused major disruptions to supply chains around the world following the biggest closure of European airspace since World War II. The event is estimated to have caused losses of between €1.5bn and €2.5bn to worldwide trade.
Since then, companies have worked hard to limit their exposure in the event of future events. Forwarding and logistics group Expeditors told Lloydsloadinglist.com that it was monitoring the situation closely and studying possible contingency plans "consistent with its business continuity plan including, but not limited to alternative routings, capacity purchase options and multi-modal solutions for implementations should an eruption lead to flight disruptions impacting air cargo'.