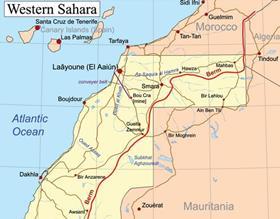 French activists in Bagnolet in eastern Paris this week launched a campaign at Auchan stores to boycott Azura-branded tomatoes originating from Western Sahara, according to a report from All Africa.
The tomatoes, labelled as produce of Morocco, are reportedly grown in Dakhla, a city in Western Sahara that is currently under Moroccan occupation.
Organisers of the campaign described such labelling as 'a fraud on the origin of the product' and urged French traders and consumers to boycott all fruit and vegetable imports from the area to avoid 'direct involvement in plundering the wealth of the Sahrawi people and encouragement of Morocco in its illegal occupation of Western Sahara'.
In response, Azura stated that the company 'actively seeks to support economic and social growth of the local populations in the areas in which it operates'.
'This is most certainly the case for Dakhla,' it said, 'where Azura finances tutoring programmes for regional youth and provides free food and water to nomadic Sahrawi herders that travel long distances for this benefit.'
The group equally highlighted the UN position on Dakhla, which considers Western Sahara 'a non-self-governing territory' and Morocco its de facto administering power.
According to a 2011 statement by Catherine Ashton, the EU's high representative for foreign affairs and security policy, 'to the extent that exports of products from Western Sahara are de facto benefitting from thetrade preferences [between the EU and Morocco], international law regards activities related to natural resources undertaken by an administering power in a non-self-governing territory as lawful as long as they are not undertaken in disregard of the needs, interests and benefits of the people of that territory'.
Azura also stressed that it abided by the EU policy on labelling under the Association Agreement and further trade agreements.
Western Sahara has been under Moroccan control since 1975 and has increasingly become the focus of human rights campaigners, who accuse the EU of being complicit in the plundering of Sahrawi resources, which include tomatoes, fish and phosphates.