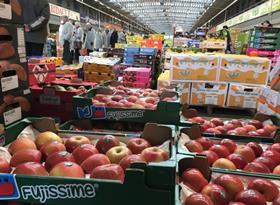 Strike action at French ports in protest at president Emmanuel Macron's mooted pension reforms has had a big impact on apple exports since December, according to a report from Ladepeche.fr.
Seven French ports have reportedly been affected to varying degrees – Calais, Dunkirk, Le Havre, Rouen, Nantes-Saint-Nazaire, La Rochelle and Marseille – with container terminals at Le Havre and Marseille the worst hit.
December saw a 25 per cent drop in traffic at the port of Le Havre, while blockages at Marseille have affected the ability of France's leading apple exporter, Blue Whale, to send fruit containers to the Middle East and Africa.
"We are used to dealing with technical or weather problems that block our boats every year," said Blue Whale president Christophe Belloc. "This is part of the risk of exports. Generally, when there is one week of strike, we manage to compensate with the next. The problem here is that the first boats canceled were in mid-December and our customers cancelled their orders. Over the last month, between the cargoes that remained at the terminal and the transfers of our goods to other European ports, we lost €150,000."
Only a quarter of the 220,000 tonnes of apples sold by Blue Whale during the 2019 harvest is intended for the French market, with the rest exported by ship. But due to the port blockade, the company has been forced to sign contracts with foreign ports, contributing to delays and additional costs.
'When an apple leaves from our Bessens station, you can go through the port of Barcelona,' said Belloc. "On the other hand, when we have production in Provence or in the Loire Valley, we are forced to go to more distant ports such as Antwerp, Belgium, or Italy. This generates quite significant costs and we are not a priority, not being referenced customers. What is unfortunate is that in recent years, French ports have found a certain reliability. With these strikes, we realise that this is all over. We will probably decrease the share of our trips to French ports in the coming years in favour of foreign ports."
Blue Whale's pear exports to the US have also been impacted, since only the blockaded port of Le Havre is authorised by US customs to export fruit to the country, with around 60 tonnes held up at the terminal, according to Ladepeche.fr.