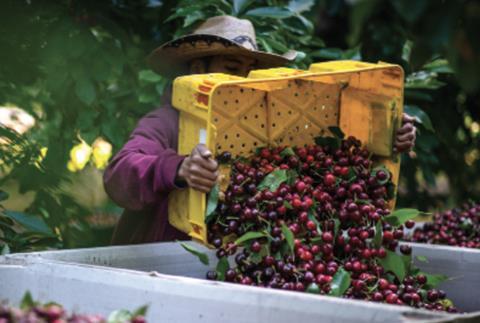 After a record-breaking 2021 season that saw 10.1m cartons (8.2 kg) shipped, the California cherry industry is busily preparing for another challenging season.
Speculation across the industry is that the huge 2021 crop likely stressed trees already weakened by drought as well as diluted sugar levels. Leading into the season, most industry observers anticipate a shorter crop in 2022, as this is often the case following a large-volume year.
A very wet December, sufficient chilling hours and a spate of warm weather in February had the 2022 season setting up for a relatively early start. But all optimism was put on hold in late February, due to several nights of sub-freezing weather that hit the northern half of the state. As April approached, California cherry growers were still assessing the extent of their damage.
"There was scattered (frost) damage around much of the northern valley that looks to have impacted the major varieties," said Stemilt's Dave Martin.
"It's still too early to know just how much but it could mean the crop will be down by 15 to 20 per cent from last from season. The bloom was still in the early stages, so we won't know where we stand until closer to the harvest."
Marc Calder of Primavera Marketing said the frost may impact the overall Bing crop.
"We were setting up for an early start (to the season) before the freeze hit," Calder explained. "There could be fruit available by 20 April, give or take a couple of days either way.
"Questions remain regarding the Bing crop as the freeze appears to have hit the north end of the valley hardest. There are some orchards with no fruit in them."
Martin said the outlook for the Coral variety varies depending on production region.
"The Coral variety set appears 'mixed' by region; looking pretty good around the Tracey area (south-west of Stockton) but not so good around Stockton and Lodi," he said.
Martin said cherry production should be "fairly good" during May, as Corals will dominate the harvest. "June will be a question mark until we find out how the Bing crop came through the freeze," he added.
Coral was the leading variety for volume in California last season at 3.6m cartons, followed by Bing at 2.8m. Despite increasing volumes of Coral from the industry, Bing still exacts the major influence on overall production. During the last decade, Bing production has averaged 2.3m cartons, ranging from a high of 5.3m cartons in 2012 to a low of just over 1m cartons in 2018.
"Will this be a 3m carton Bing crop this year? No," said Martin. "Two-million? Maybe."