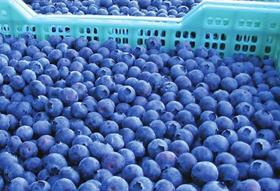 Argentinean blueberry production will be down by 20 per cent this season due to severe frosts in July and August.
Exports in turn will fall to 14,300 tonnes for 2013/14, compared with the 15,069 tonnes that were sold last season.
"During autumn and the start of winter in Argentina the temperatures were above normal so the cold hours were lower than average," Inés Peláez, manager of the Argentinean Blueberry Committee (ABC), told Americafruit.
"This caused an advance in the development of most varieties. On 21 July the situation changed, however, when a mass of polar air arrived, bringing widespread frosts of an unusual duration."
ABC told Americafruit that the shortfall in export volume was mainly felt at the beginning of the season in August/September since the coldsnap predominantly affected the early varieties.
Argentinea's blueberry supply for 2013/14 will peak in weeks 43, 44 and 45 or late October/early November, according to ABC.
Market-wise, the organisation predicts a similar volume to last year since exports to the US are set to remain at around 9,000 tonnes, with 4,500 tonnes heading to Europe.
Supplies to Asia, meanwhile, will stay small given that Japan has still not opened its market to Argentinean blueberries and China will probably not grant access until next season.
In the meantime, Argentina is continuing its process of varietal reconversión with early varieties.
ABC members are currently planting more Snowchaser, Emerald and Springhigh.