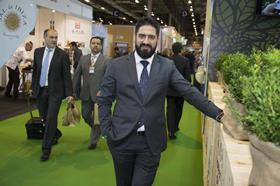 Raúl, Fruit Attraction is back as a physical event this year. There must be quite an appetite within the industry to meet up once again…how will it compare with previous years?
Raúl Calleja: I don't think this edition can be compared with any other. Previous editions may have been bigger, but this year's fair is all about reconnecting. If anything, it will be more useful than in previous years as companies have gone so long without face-to-face contact. This will allow them to present their products and services and position their brands.
By the end of August we had 1,200 confirmed exhibitors from 40 countries. These are similar figures to 2018, and we expect the number to increase in the coming weeks. In fact, every day we're getting enquiries from 10-15 new companies who are drawn by the simple and inexpensive participation model.
All of which confirms that the fruit and vegetable sector is a committed, courageous, dynamic, innovative, modern and avant-garde industry, and one which remains committed to one of its main promotion and marketing instruments. It has played a vital strategic role throughout the pandemic, keeping the population fed, providing employment and supporting the economy.
What can we expect to see at this year's Fruit Attraction?
RC: We're incorporating several new features this year, including the Fresh Fruit Logistic area, which will bring together a range of companies offering traceability for the cold chain, from field to table.
There's also a growing focus on digitization and new technology. Hall 5 will feature three new areas related to agricultural sector innovation: Biotech Attraction; Smart Agro, and Smart Water & Energy.
Naturally, Fresh Convenience will continue to play a leading role this year and the trend for fresh-cut and convenience products continues to grow. And start-ups will also have their space since the fruit and vegetable sector is becoming a key market for investment funds.
I think it is also worth highlighting this year's conference programme. Throughout the three days of the fair we will host an extensive programme of technical conferences with sessions such as the Biofruit Congress; Fresh Food Logistics Summit; Biotech Attraction and Smart Water & Energy, among many others. Providing a space for debate and the exchange of knowledge and ideas is one of the most important aspects of the fair.
Last year you launched the LIVEConnect platform to connect people and companies in the global fruit and vegetable industry. Has it been a success?
RC: When we launched LIVEConnect at last year's show, the aim was to create the largest fruit and vegetable community and B2B social network in the world. Between 1 and 31 October, almost 7,000 members made more than 15,000 professional contacts. These results led us to make the decision to keep the platform operational 365 days a year so that we could provide a networking tool with relevant and informative content throughout the year.
Today, a purely in-person event no long makes sense. We are on the way to creating a 3.0 event combining the benefits of a physical show with all the functionalities of a digital platform – networking, leads, branding, training etc.). It creates a permanent professional community throughout the year, with no geographical or time limitations.
Innovation is in the DNA of the fruit and vegetable sector and Fruit Attraction must therefore reflect this. We're enhancing the effectiveness of a face-to-face event, broadening and enriching the value proposition so that it complements the irreplaceable attributes of a physical show with technological features that amplify and extend the opportunities to do business beyond three days of the year.
Like other trade events, Fruit Attraction has proved itself able to adapt to the Covid scenario we have faced during the last year and a half. Looking ahead, what long-term impact do you think the pandemic will have on the Spanish fruit and vegetable sector?
RC: I understand that many things are going to be different, not just for trade fairs or indeed the fruit and vegetable sector, but in all socio-economic fields. Of course, digitization, technology, changes in customer buying and consumption habits will generate new opportunities. We have to be followers of market trends in order to adapt our businesses. The pandemic has accelerated changes in our daily lives, in the way we work, eat, buy etc, and some of these changes will be permanent. The sooner we embrace this, the sooner we can adapt to the new reality.