Hortgro, SATI, and FPEF issue joint statement with Transnet in move to reassure trade that recent logistical challenges can be overcome in time for the new deciduous fruit campaigns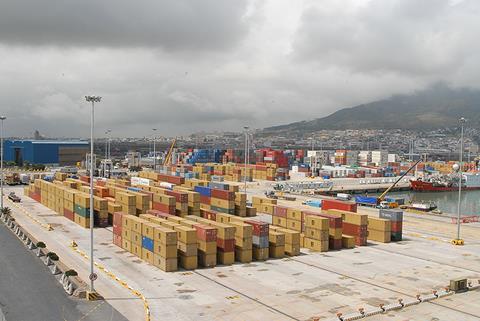 Three of South Africa's leading fruit industry organisations say they remain "concerned" that the flow of produce exports out of Cape Town over the coming months will be hampered by logistical issues that continue to hamper the city's port.
The country's Western Cape province will soon enter its peak period for exports of key products including pears, stonefruit and grapes, but the city's port has been beset with problems amid doubts over port operator Transnet's ability to overcome those challenges.
In September, a World Bank report listed most of the country's ports at the bottom of global container handling facility index.
However, there are some indications that improvement may be around the corner. Earlier this month, sources told Fruitnet that the government-owned conglomerate was going "back to basics" to improve performance.
In a joint statement issued by deciduous fruit body Hortgro, table grape association SATI, the Fresh Produce Exporters' Forum (FPEF), and Transnet itself, the groups revealed they were working to address various strategic and operational difficulties.
"Meetings continue every week to exchange information on expected fruit flows and the status of port operations throughout the season, but specifically during the peak of the stonefruit, table grape and early pear season," the statement read.
"While the deciduous fruit industry is concerned about the physical flow of product through the [Port of Cape Town] in the coming season, at the most recent engagement Transnet management committed to better planning, sourcing additional equipment, on-site maintenance capacity and increasing availability of spares."
Readiness and willingness
Transnet, which runs the Cape Town Container Terminal and Cape Town Multi-Purpose Terminal, has apparently shared various so-called "readiness plans" with the organisations and identified areas where it needs their help to improve.
These include an eight-point plan to improve efficiency. It says this will optimise the port as a delivery platform, combat adverse weather conditions, improve truck operations, optimise marine services, improve information sharing and port operations visibility, enhance terminal equipment and infrastructure, and manage its people better.
In addition, the plan includes a proposed way out of the immediate crisis. "We are hopeful that these interventions and plans will make a difference in the coming months and that we will experience logistical improvements," the joint statement said.