Importer and distribution company set up by Tru-Cape and Vitanova has opened a new cold storage facility in the country
Two South African fruit exporting companies, Vitanova International and Tru-Cape Fruit Marketing, have joined their local Kenyan partners to establish a new state-of-the-art cold storage facility.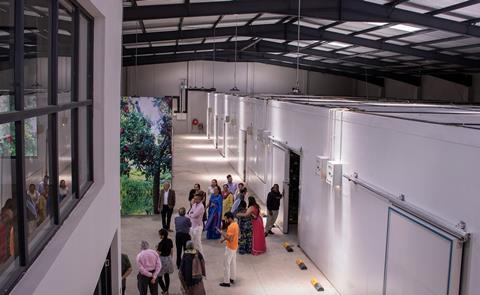 Located in one of Kenya's foremost commercial complexes, the move has been described as a major boost for fruit security in Eastern Africa.
Fruitbox Ltd, a Kenyan importer and distribution company, was formed in 2014 and is owned by Vitanova and Tru-Cape along with Sandip Jethalal and Bhaumik Shah, both of whom a long history in the Kenyan fresh produce industry.
The group is the exclusive importer for Tru-Cape in Kenya, with key products including apples, pears, cherries and soft citrus.
Fruitbox also imports other citrus and table grapes from Southern African countries and Egypt, as well as kiwifruit from Europe and South America.
"While we previously leased cold storage, we had a need for more purpose-built infrastructure," said Nico de Lange, chairman of Fruitbox. "This led to the next step in the evolution of our business, which was to build our own cold storage facilities."
The new facility was built at a cost of US$1.5m and has enough space for 800 pallets of fruit and seven loading bays.
"In Kenya we are the market leader in the way we handle and store our fruit," De Lange continued. "We classify all fruit on arrival and store it according to quality and shelf life. This ensures that stock is sold in optimum condition, with great shelf life and according to market conditions."
"Fruitbox also adds value with an outstanding reporting system," said Sandip Jethalal, general manager of Fruitbox. "We send all data back to suppliers and maintain a very good cold chain. From the time of arrival to storage should not take longer than an hour."
Simon Cabral, director at Vitanova International, said the new facility was part of its long-term strategy to assist Fruitbox as a leading importer in East Africa.
"Fruitbox's vision is to work hand in hand with suppliers and customers to provide a first-class service in this challenging sector," he explained.
The space, located within the Tilisi development about 30km from the Nairobi central business district and close to the A104 Nairobi-Nakuru Highway, enables Fruitbox to receive fruit entering the country via seafreight from Mombasa or airfreight from Nairobi.
"We are proud to be a part of Tilisi," Cabral noted. "They are progressive and fit our culture very well. We are excited to see their original vision coming into life."
Fruitbox is mitigating Nairobi's occasional power outages with diesel generators, but part of the planning for phase two of the project includes solar panels.
"The premises allows us to double our capacity as we grow, and we hope to start building again in two years' time," Cabral outlined.
Roelf Pienaar, managing director of Tru-Cape Fruit Marketing, said that the storage allowed them to serve East Africa in its entirity, with Kenya often described as the gateway to Central East Africa.
A major share of the produce imported by Fruitbox is destined for cross border trade with its land-locked neighbours such as Uganda, Rwanda, and South Sudan.
The balance moves through the wholesale market in Kenya, with a small portion entering the local retail market.
Apples remain the main product category across the whole of Africa, with a huge potential market for especially pink and bi-coloured varieties.
"As our volumes of Pink Lady apples grow, East Africa becomes key as a market outlet," Pienaar added. "There are also good opportunities for varieties such as Cripps Red and Flash Gala."