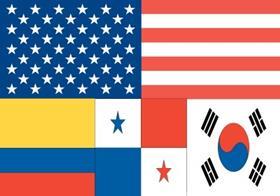 The United Fresh Produce Association has backed the passage of three free trade agreements (FTAs) with Colombia, Panama and South Korea, which it has said will have a 'direct impact on key regions in the fruit and vegetable industry'.
According to the association, the South Korean trade agreement allows for an immediate elimination of tariffs on US-grown asparagus and certain types of tomatoes, the Panama agreement will lead to the elimination of tariffs on almost all fruit products, and the Colombian agreement will do away with most barriers to trade for US products.
'This key development in trade policy represents a win for agriculture across the board with up to US$2.5bn in new agricultural exports and support for up to 22,500 jobs involved,' noted United Fresh senior vice-president Robert Guenther. 'Increasing opportunities for those who grow and ship fresh produce is the foundation for the future success of the industry.
'Making foreign markets more accessible to American producers is one critical way to making sure that the produce industry retains the vitality and diversity necessary to keep growing,' he added. 'The fresh produce industry is an increasingly global one, reaching and impacting all corners of the world. The trade agreements with South Korea, Colombia and Panama, collectively offer a significant opportunity for US agricultural exporters.
'Through the bipartisan efforts of Congress and the administration, these new trade agreements will help to foster trade with these important markets, create jobs and support continued growth of the fresh produce industry in the United States.'
Meanwhile, global retail leader Walmart has leant its support to the FTAs, which it says will level the playing field for US companies.
'Walmart commends the Administration and Congress for working to pass the free trade agreements with Colombia, Panama and South Korea,' the retailer said in a statement. 'Implementing these agreements will lower trade barriers and help level the playing field for American companies. American manufacturers and service providers will be able to grow by reaching new customers overseas, and more American exports will mean more American jobs at a time when they are desperately needed.'