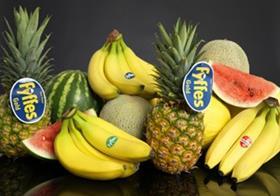 Fyffes has announced that it is increasing its target earnings range for 2015 after continued strong performance throughout the opening half of the year.
The fresh produce giant said that it has pushed its EBITDA taget up to €55m-€61m, EBITA and EBIT up to €44m-€50m, and its adjusted EPS up to 12.2-13.9 cent.
The increase has been driven by securing necessary increases in selling prices in the banana and pineapple categories and through a focus on operational efficiencies, the group explained.
'This demonstrates the Group's robust business model and its ability to quickly adapt to prevailing market conditions. Fyffes has also had another strong performance in the recently ended US melon import season.'
Additionally, the EBITDA range now includes an estimated depreciation charge of €11m for 2015, compared to €8.1m in 2014, reflecting the 'significant level of capital expenditure in the previous year'.
'Fyffes is confident about the future prospects of its business and is well placed to compete strongly in its key markets, following important strategic and operational developments in recent years,' the company noted. 'The Group also remains focused on achieving further efficiencies in its operations.'