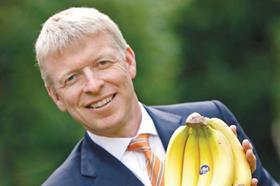 Irish fresh produce giant Fyffes has announced that it has exercised its right to terminate the revised transaction agreement with Chiquita Brands International, following the result of a vote of Chiquita shareholders today (24 October), during which they voted against the proposed ChiquitaFyffes combination.
Pursuant to the revised agreement, Fyffes noted, should Chiquita enter into a separate transaction agreement within nine months, the Irish company would be entitled to a termination fee of 3.5 per cent of the total closing value of the issued share capital of Chiquita, the day prior to such an agreement.
"Fyffes remains the leading European banana company with turnover in excess of €1bn and a long and successful history of growth,' said David McCann, Fyffes executive chairman.
'Fyffes management team has a proven superior track record of delivering shareholder value, as demonstrated by our consistently strong results in recent years and solid balance sheet,' he outlined. 'We are confident Fyffes will remain at the forefront of the global produce industry. We will continue to focus on successfully developing our business for the benefit of all stakeholders.
'We extend our gratitude to Ed Lonergan and the Chiquita team for their professionalism during the process and wish them well in the future,' McCann added. 'We would like to thank all our team and advisors who have worked tirelessly and diligently on this transaction.'