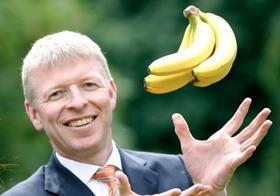 Irish tropical fresh produce marketer Fyffes has moved on from its failed attempt to merge with Chiquita and will not seek out a similar deal with another multinational business, its chief executive David McCann has told The Irish Independent.
"A very substantial transformation like what we have just seen is not something we are looking at," he explained. "Of course we regret it not going through but it has gone somewhere else and we're moving on."
Instead, having profited to the tune of €4.3m – thanks to an €18.6m compensation payment from Chiquita that more than covered the costs it incurred in preparing for the proposed merger – Fyffes is now looking to achieve further growth by acquiring mid-sized companies.
However, the company's urge to secure that expansion will compete for attention with a need to earn more from its fruit across the board in response to recent changes in the trading landscape.
With a strengthening US dollar putting increased pressure on its returns, the company's continued success will depend on its ability to convince the market to pay a certain amount for its fruit.
In the face of that difficult market, Fyffes has set a target pre-tax profit of €36m-€42m for 2015, compared with €40.1m last year.
"Fyffes is pursuing necessary increases in selling prices in all markets in response to the significant strengthening of the US dollar against the euro and sterling in recent months," McCann explained in the group's annual report, published last week.
"The group is focused on continuing to grow the business and is actively pursuing a promising number of attractive acquisition opportunities," he added.
Fyffes' sales rose by just 0.8 per cent to €1.1bn in 2014. Both the pineapple and melon categories grew in terms of volume, but modest price deflation in bananas and pineapples had a detrimental effect on revenue.
Analyst Patrick Higgins of Goodbody Stockbrokers told The Irish Independent that he agreed a deal with one of the other major fruit multinationals was unlikely.
"Fyffes will look to step up M&A and I think the priority will be to build up in their core north-east Europe region," Higgins commented.
"The company has indicated it is comfortable with leverage so it could be looking at deals of up to €200m."