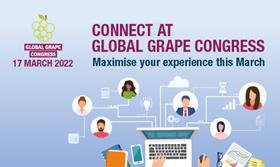 Global Grape Congress features experts from all over the world who will share their insight into the main trends and challenges in the table grape category.
Global Grape Congress is broadcast live from Fruitnet's studios in Melbourne and London, bringing the world of grapes together for a day of learning and networking that will help you grow your own business.
Why attend Global Grape Congress?
Meet and greet the experts tuning in from all over the world and say hello to your next potential customer.
LIVE CHAT AND Q&A WITH SPEAKERS
Top expert speakers are joining us for a day packed with interviews, talks and discussion. Interactive sessions include live chat and Q&A with speakers. This means you can ask them the questions that matter most to you.
1-2-1 ONLINE CHAT
Available before, during, and after the event. Global Grape Congress lets you create your own customised online profile. An advanced search option helps you identify the best contacts for your business.
LIVE VIDEO CHAT
Available on the event day. As a Global Grape Congress visitor, you can see who is online and offline. You can request a video call with other delegates, sponsors, exhibitors and speakers to maximise your networking opportunities during the event.
Supporting Global Grape Congress as a sponsor allows you to engage with your target audience, opening the doors for your organisation to connect, network and advance your business.
Talk to our team and choose the best promotional option for your business.
Gain maximum exposure today!