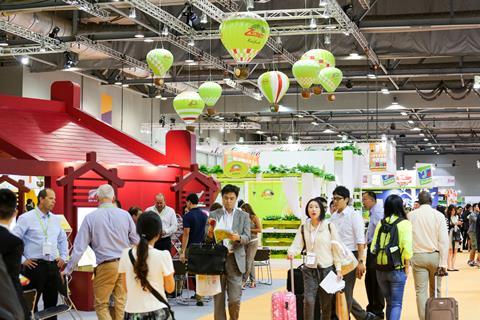 Attending the Asiafruit Congress in Hong Kong last week, prior to Asia Fruit Logistica, I came away with the impression that despite the huge increase in demand for imported fruit in nearly all the markets of China and south-east Asia over the last 10 years, it might be that the real growth in this part of the world is yet to come.
Take the four key drivers identified as underpinning the rapid rise in imports to date. These include the ongoing trend towards urbanisation, with literally hundreds of millions of consumers predicted to leave the land over the next 10-20 years across the region to live in cities and other urban areas. This shows no sign of slowing, and with it, we will see consumer incomes continue to rise.
The region has seen a number of Free Trade Agreements developed with countries such as Chile, Australia and New Zealand, with other suppliers such as Peru, Mexico and South Africa all looking to follow suit over the next few years. Every time an FTA is signed, it sees a surge in imports of the product into the market concerned.
More of these will be developed all round the region over the next decade. Ways of dealing with non-tariff barriers, which have acted as a break to some exports to Asian markets, will be resolved in due course. For supplying countries, the size of the potential prize is just too big not to seek to find a resolution.
Retail developments are still in many ways at a fledgling level. Even in relatively mature markets, such as Hong Kong, the wet markets are still influential and account for 60 per cent of the trade. In other countries, the percentage share of the market accounted for by modern retailers is still in single digits. India and Myanmar are good examples. International and local retail formats still have plenty of room to grow. It will again boost demand for high-quality fruit and vegetables and convenience-based fresh-cut products.
And then there is the role of China itself, which dominates the region. Already a big producer of many products, a processor of some and exporter to other Asian markets, China can and will be a prime market for just about everybody it seems, judging by who was in Hong Kong. Americans, South Africans, Chileans, Australians, New Zealanders, Peruvians, Mexicans, Italians, Spanish, Dutch and the French were all in attendance.
China can be almost all things to all people, and when the Chinese get into a sector or a form of trade, it tends to be big. China is still the standout opportunity in Asia, but opportunities exist right across the region. India can be a huge market. Countries such as Indonesia, the Philippines, Malaysia, Vietnam, Thailand, South Korea, Taiwan and the entrepot markets of Singapore and Hong Kong, are all being supplied to date in some form, but clearly still offer market opportunities.
Growers around the world will plant, produce, pack and export specifically for the Asian market, not automatically Europe and the US as has been the case in the past. I am not sure we have even really started with growth in Asia yet and with it will come more direct trade, investment in farms, infrastructure and logistics, attention to areas such as food safety and the emergence of Asia as the biggest market for fresh produce in the world.