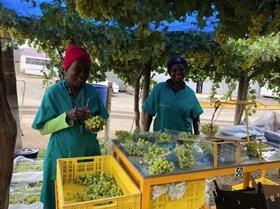 The table grape industry in the southern part of Namibia has reported a good 2020 season, with total exports reaching 6.3m cartons.
This is higher than the previous season, but observers point out that the growth in the industry is still some distance from the target set for the end of the year.
Namibian grapes ripens in early November and by Christmas most of the crop is normally shipped. This makes the country the earliest southern African producer.
Well-known table grape personality Andre Vermaak, who has been involved with the Namibian business for many years, said it was originally estimated that the country would export 10m cartons by the end of 2020.
"The growers are some way off this target, but the original forecast was perhaps optimistic given the structural changes in cultivar specification that needed to take place,' he explained. 'A great number of the older varieties have now been removed and the industry now boasts some of the best ARRA and IFG varieties available."
The upward trend this year, although modest, means that Namibia is ready to embark on a new phase. "In general we have excellent support from the Namibian government which realises the great importance of the industry in the south for employment and economic development,' Vermaak continued.
Namibian grapes are packed mostly at Aussenkehr on the northern bank of the Orange River, and from there they are transported over some 900km to Cape Town, from where they are shipped.
The region started its harvest about a week before South Africa's northern regions, where most of the grapes are grown in the Loskop Valley near Groblerdal. South Africa's northern regions had a tough year due to rain and export volumes fell for the first time in a number of years.
In Namibia, the 2020 season saw a unique milestone. One of the Capespan production units achieved BRC status for it vineyard packing. Although this is by no means a new concept in table grape packing and has been practiced with success in other countries, it is unusual for it to receive the BRC accreditation.
Those who convert to this method of packing, have said that it is a major cost saver. Others, however, said that it can never be done on the scale required to pack all South African table grapes.