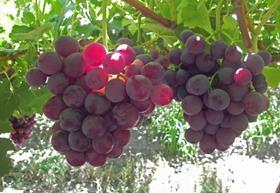 The South African table grape industry has dropped expectations for this year's harvest slightly, although favourable conditions could still see export volumes end up just short of the bumper 2016/17 crop.
The latest forecast put exports between 55.9m cartons and 66.3m cartons. Last season 61.1m cartons were exported compared with the record 67.5m cartons in 2016/17.
Because it is still fairly early in the season, it is perhaps better to reflect on the market distribution so far – and this shows an increasing trend of spreading the country's grapes far wider than before.
This, along with the imminent announcement of plans for a special pilot consumer promotion in China, demonstrates an important development outside the traditional markets of Europe and the UK.
From every growing region in th country, deliveries have increased significantly compared with last year up to the end of week one, with the exception of the northern regions where the total estimate has dropped by 1.5m cartons on last year.
Growers in the Orange River have said that their harvest has been going well, having already delivered 15.5m cartons up to week one, compared with last year's 14.1m cartons.
With less than 5m cartons to go to the end of the campaign, the early season has seen the region pack more than 80 per cent of its crop.
An analysis of market distribution shows that both the EU and the UK has received fewer South African table grapes when compared with the same time last year.
However, shipments to Canada have more than doubled, while exports to the Middle East, South East Asia, the Far East and Asia are also running ahead of last season, with Russia more or less on par.
Interestingly, exports to the US, traditionally regarded as a difficult country to supply due to tough protocols, have also more than doubled, reaching the highest level for the past four years. This is, however, from a very low level.
Africa is also showing a modest increase compared with last year.