Greenyard has turned to Agriplace to facilitate information sharing on quality, sustainability and social requirements and gain a better insight into its customer base, writes Michael MacFarlane, Agriplace account executive UK & IE
In an era where sustainability is a big priority for the fresh produce industry, Greenyard has emerged as a shining example of unwavering commitment to a healthier future, dedicated to improving lives through pure-plant food experiences, promoting healthier lifestyles and fostering more sustainable food supply chains. 
Greenyard believes that pure-plant food, fruit and vegetables, with all their pure and natural power, are the future. But their mission to make a positive impact on people and planet comes with a set of challenges.
Judith Prang, divisional business process owner at Greenyard, acknowledges this. "As part of our sustainability strategy, we require our growers to adopt good agricultural practices and obtain the necessary certifications, such as GlobalGAP and Farm Sustainability Assessment (FSA). However, keeping track of the certification status for thousands of suppliers is a considerable challenge."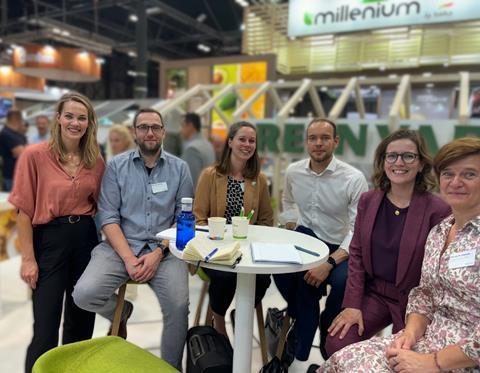 To tackle this challenge, Greenyard has turned to Agriplace, and the reasons behind this strategic partnership are clear. Judith Prang elaborates: "The Agriplace platform was specifically developed for the agricultural sector and helps sellers and buyers within the food supply chain to easily exchange information with regard to quality, sustainability and social requirements. The platform allows us to gain better insight into our supplier base and saves time collecting and reporting the right information. As some growers supply multiple entities within our group, this creates a valuable opportunity for quick efficiency gains in our overall operations. Agriplace also provides direct access to the GlobalGAP and FSA databases for easy reference and verification."
Greenyard's Fresh, Frozen and Prepared entities in various countries across the globe are actively using the Agriplace platform. "Several fresh entities are currently in the process of uploading their data to the software," says Prang. "For the entities supplying the German market, this will be used to monitor compliance with risk prevention and mitigation measures, in line with the Lieferkettengesetz (LkSG)."
Greenyard's sustainability aspirations don't stop at certifications. It has set a clear goal to have 100 per cent of its grower base in high-risk origins certified for social compliance by 2025 and in medium-risk origins no later than 2030. To efficiently prioritise and act on this ambitious goal, it has adopted a risk-based approach that was co-developed with SIFAV and Agriplace: the Sustainability Risk Assessment.
"As established in the way of working we developed within SIFAV, we are using a risk-based approach," Greenyard revealed. "Within SIFAV, a clear list of comparable standards is agreed, with more stringent certifications required in high-risk countries compared to medium-risk countries."
SIFAV and Agriplace have defined a comprehensive risk assessment methodology that covers 21 ESG risk domains, which are visualised in an online tool. This methodology serves as the basis for Greenyard's risk analysis, ensuring that its resources are invested where it matters most.


The Greenyard and Agriplace partnership demonstrates the power of collaboration in achieving ambitious goals and paving the way for a greener future. Agriplace is helping Greenyard to share knowledge and set uniform standards for future operations. In a world where sustainability is the key to a brighter future, Greenyard's partnership with Agriplace is a step forward. With Agriplace, Greenyard is even equipped to fulfil its ambitious vision to improve life for a healthier future.