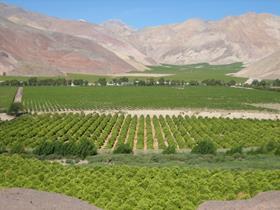 Fruit exporters in Chile and Peru are considering taking legal action against their US representatives after being caught out by a glut of shipments to California which have sent grape prices plummeting.
The legal cases would be based on the 1921 Packers and Stockyards Act which establishes a series of obligations for agents representing importers in a foreign market.
These include the requirement to inform shippers when there is a lack of demand in the market.
An early harvest in northern Chile, as the result of recent high summer temperatures, together with a sharp increase in production in Peru has sparked massive oversupply to the US fruit market recent weeks causing grape prices to fall to record lows.
According to Chile's Ministry of Agriculture, grape prices in the US have averaged just US$1.50 per kg since September, down from US$2.41 per kg in the 2015/16 season. The US continues to account for almost three-quarters of Chile's grape exports.
Fernando Sat, president of the Table Grape Committee, said growers in northern Chile had been worst hit, especially those in Regions III and IV.
"The crop was running 10-15 days earlier than usual and shipments clashed with high stock levels in the US and an increase in Peruvian volumes, generating a complex market situation and negatively affecting prices," he explained.
Between December and February, Chile exported US$541m of grapes, up 23 per cent from the same period of last year.
Sat noted that the rise in production of new licensed varieties in Peru was having a major impact on Chilean exports.
The oversupply means that some producers cannot even sell their produce before its quality begins to decline. Estimates put losses for the Chilean fruit sector in the tens of millions of dollars.
Although the situation is clearly a case of supply and demand, exporters fear their situation has been hampered by less than scrupulous agents in the US market.
"In many cases, exporters were not informed that stocks were filling up," Matias Araya of Santiago law firm Araya & Cia told Fruitnet.
Last week, lawyers from Araya & Cia met with grape farmers in the northern agricultural town of Ovalle to discuss the situation.
"It is not widespread, these cases are the exception," highlighted Araya.
Araya said that they were also revising existing contracts in order to better advise farmers on what legal measures they could take in the future to ensure their rights are respected.
"But in Peru, situations have risen which could generate legal actions. This is a clear situation of abuse," Araya said.