AFM invites shoppers to celebrate the duo of guacamole and tacos with new Guac N' Tacos shopper programme
Avocados From Mexico (AFM) is kicking off the new season by inviting US shoppers to celebrate with guacamole and tacos ahead of National Guacamole Day on 16 September and National Taco Day on 4 October.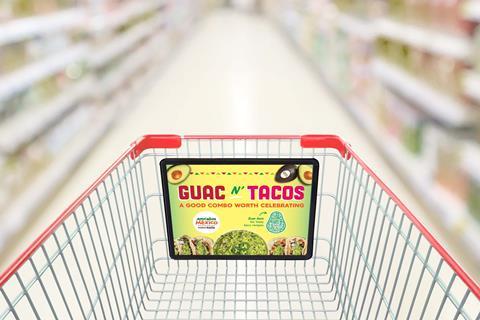 The first ever Guac N' Tacos shopper programme aims to boost consumption and demand around these two key occasions.
The promotion, which runs from 5 September to 9 October, highlights the combination of guacamole and tacos with thematic in-store displays, digital media and coupons. Branded point of sale materials outside the produce aisle will also remind shoppers to add avocados to their tacos in over 5,000 stores nationwide.
Tacos represent the majority of Mexican handheld eating occasions, yet less than 2 per cent of the Mexican handheld occasions include avocados, creating an opportunity for AFM to reinforce the combination of both.
"Because guacamole and Mexican dishes represent the top two volume driving opportunities for avocados, National Guacamole Day and National Taco Day are the perfect occasions for AFM to encourage shoppers to purchase avocados," said Stephanie Bazan, vice president of shopper and trade marketing at AFM.
"Avocados From Mexico always bring good taste and good times, and this programme makes it easy and fun to add them to Guac N' Taco celebrations."