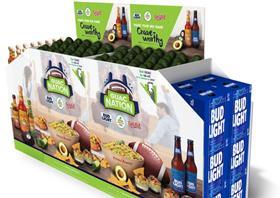 With the NFL playoffs in full swing, Avocados From Mexico (AFM) is embracing the power of cross marketing to capture the attention of American football fans.
The leading avocado brand has partnered with beer label Bud Lightand hot source brand Cholulato bring back the Guac Nation programme for the second consecutive year.
Guac Nation encourages consumers to take their big game party spreads to the next level by using avocados in different ways. The programme is brought to life through in-store rebates and sweepstakes, branded bins and POS displays.
'Our big game programming is packed with exciting opportunities to merchandise avocados in an effort to drive consumption,' saidStephanie Bazan, vice president – trade and market development at Avocados From Mexico. 'Working with two impactful brands not only offers retailers the opportunity for engaging in-store promotions, but also offers customers a seamless shopping experience for their big game party needs.'
AFM has also integrated MikMak, an enterprise marketing technology platform, to add e-commerce capabilities to all its media. MikMak not only lets consumers buy fresh avocados directly from digital and social media, it also allows AFM to better understand their consumers by connecting digital investments to online retailer insights.

'Following our drive for innovation, and as category leaders, we have become the first fresh produce brand to integrate this technology, making our social ads shoppable,'saidIvonne Kinser, head of digital at Avocados From Mexico.
The Super Bowl, the culmination of the NFL season, is the largest sporting and television event in the US, with 112m people tuning in to watch.An estimated 44m Super Bowl parties were hosted in 2019, according to the US' National Retail Federation.