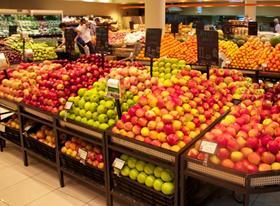 A report by global auditors PwC into online shopping habits in the Middle East has shown that the vast majority of consumers still prefer to buy groceries in-store rather than on the internet.
Despite the penetration of mobile technology in the region, particularly in an advanced market like the UAE with its large population of ex-pats, 71 per cent of Middle Eastern consumers prefer shopping in-store for groceries, compared with just 28 per cent for non-perishables such as books, music, films and video games.
And Jannie Holtzhausen, CEO of retailer Spinneys, does not expect this situation to transform any time soon. "Whether it involves click-and-collect or home delivery, online grocery sales have seen very slow growth in the Middle East, and it's hard to see the pace increasing."
According to Holtzhausen, the UAE for one is such a car-driving society that few think twice before getting in their car to do their shopping.
Holtzhausen also points to structural issues that will continue to make home deliveries very difficult in the near future. "There are certain popular products that are low in value, but extremely bulky and heavy, such as bottled water," he said. "If everyone orders two cases of water, that's a problem. It becomes expensive to deliver."
Then there is the fact that most consumers in the region prefer to purchase their fruit and vegetables loose, as opposed to packaged. "We still sell the bulk loose," he said. "Moving from this situation straight to online sales, and missing out the packaged stage, is clearly not going to happen overnight."
The status quo is good news for retailers in the Gulf, given the widely held belief that online shoppers are less prone to impulse purchases. Holtzhausen, however, gives little weight to the phenomenon.
"I don't think you can get a consumer to overspend on food or consume more in a sustainable way," he said. "A consumer might buy more on one visit, but then spend less on their return. What you want to encourage from your customers is loyalty. If possible, you want them to buy everything from you rather than from your competitors. But you're not going to get them to eat more kilos overall."