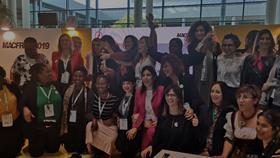 Global Women Fresh (GWF) is strengthening its partnership with the International Trade Centre's SheTrades Initiative by hosting a second webinar series to help women in Kenya's horticulture sector navigate the global produce market.
The series covers a range of topics including sustainability, e-commerce, global sourcing, supply chain management and leadership — "all things that make us women more resilient," says Eunice Mutua, participating member of the GWF/SheTrades programme.
GWF first teamed up with the ITC SheTrades Commonwealth project in 2019 to deliver capacity building and mentoring to women in Kenya's horticulture sector. Over the past two years, it has trained more than 300 women entrepreneurs in leadership, financial management, technology, marketing, and more.
Mutua is the director of Select Fresh Produce Kenya and currently working in the sweet potato and avocado value chains. As just one example of how this partnership has impacted the lives of its mentees, Mutua shares the story of her latest international business success.
After the start of the year, Russia was urgently seeking an exporter of orange-fleshed sweet potatoes — that is, 100 tonnes of orange-fleshed sweet potatoes per week — and Mutua jumped at the opportunity. She needed time to build capacity within her network of suppliers, but knew that Egypt had a momentary surplus of the product that she could capitalise on.
"It literally saved me the order. I had to figure out how to get the product shipped from Egypt to Russia, but I didn't know how to navigate the documentation," she explains.
"These are experts in their field, and they are sharing their experiences and addressing every concern that you have. If we have that model more often, we could do so much more."
At a little over two-years-old, GWF has already made an extraordinary impact on the lives of thousands of women in the agricultural sector and beyond, helping SheTrades reach its goal of connecting three million women entrepreneurs to market by 2021 and proving just how strong women can be when working together as allies.
"Truly, SheTrades and GWF have done that for us," Mutua says. "I've become so knowledgeable. If organisations continue funding this partnership, they can continue to balance gender equality, food security, and continue reaching the SDGs."
Thus far, GWF has carried out its work for free — just women lifting women. But as the world shifts its attention to impact investing and its priorities to developing a more sustainable and inclusive society, it is looking for stakeholders to join it on the right side of history through its sponsorship programme.
Based on the size of the contribution, sponsors will receive varying levels of recognition and perks within the GWF network, as well as a world of benefits from helping GWF change the status quo and leverage female talent in the fresh food industry.
Apart from sponsorships, co-founder Julie Escobar says that what GWF needs more than anything to continue its work is for more people to be a part of the conversation.
"We need more stories of empowerment and how ag-fresh companies are closing the gap and providing more opportunities for women," Escobar says.
As GWF board member and founder of Viridis Associates in the UK Jacqui Green explains, "It's not a competitive advantage, it's actually just bringing women up to parity with their male counterparts.
"It's about empowerment, but equality more than anything. It's not about getting women ahead of the curve, it's just about getting them to where they should be: on the start-line."