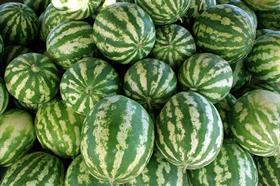 Murcian melon and watermelon producers say the damage caused to local production by Monday's hailstorms will have a minimal impact on supply.
Proexport estimates that between 8 and 10 per cent of the volume planned for June was lost after hail fell on the Campo de Cartagena and Valle del Guadalentín, equivalent to some 10,000 tonnes. Initial estimates peg the losses to the sector at €6m.
"The damage, despite being visually shocking and representing a great loss for those farmers who have been affected, will not significantly affect the total supply of melon and watermelon expected by the Region of Murcia in the coming weeks," said Laureano Montesinos, president of Proexport's melon and watermelon committee.
Murcia exported 252,298 tonnes of melons and 179,319 tonnes of watermelons in 2019.
With the 2020 Murcian campaign now underway, growers are reporting good quality and smaller sizes as the first fruit hits the market.