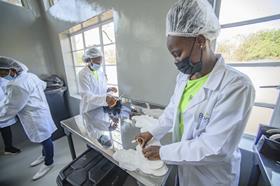 Halls has joined forces with Blossom Care Solutions to help fight period poverty in South Africa by opening a sanitary pad production facility in Mbombela, in the eastern province of Mpumalanga.
Period poverty is the term given to the financial inability to afford sanitary products, coupled with a lack of knowledge about menstruation. The problem affects millions of young girls and women in South Africa every day.
Shamiela Sarlie, managing director of Blossom Care Solutions, said the social enterprise exists to combat the issues brought about by period poverty in South Africa, while also investing in sustainable job creation.
"The overall impact of period poverty is to present even more obstacles to the learning and development of those young girls and women who are affected by it, when compared to their male counterparts," she explained.
"This, together with the social stigma that is still associated with menstruation in township and rural markets, causes additional social and economic disadvantages to those affected.
"This is why Blossom Care Solutions was established in 2019 as a mission-centric social enterprise: for women, by women."
She noted that Blossom Care Solutions has established a solid foundation over the past three years and will have a national footprint at the end of February 2022.
"We are grateful to a number of corporate and NGO partners that have bought into our mission and supported Blossom Care Solutions.
"The latest of these is HL Hall & Sons, through the initiative in Mbombela, which will see the opening of a sanitary pad production facility, using our specifically-developed business model."
During the facility's first year of operations, six previously unemployed women between the ages of 18-34 will be selected to complete Blossoms' learning and development programme.
"The emphasis is on developing confident capable young women who are able to take over the running of the business after 12 months," Sarlie explained.
"Our social franchise model ensures that each of our franchisees are supported and nurtured with specific support provided by Blossom, including access to markets."
Tracey Davies, CEO at Halls, said: "With a history of supporting communities, Halls remains committed to the wellbeing of people. We know that women play a pivotal role in contributing to a healthy society.
"Ensuring equal and ongoing access to education and opportunities for women is thus vital. Inclusion and accessibility put in place a solid foundation for socio-economic empowerment.
"The Blossom Care Solutions initiative creates shared value that benefits everyone. When women thrive, communities flourish. It is for this reason, we have decided to become involved with the project."
According to Sarlie, the Blossom business model has a decentralised low-cost approach towards manufacturing pads so that the franchises can be competitive at a local level. She noted the importance of working with and helping to develop local small businesses.
"Each Blossom franchise needs to be serviced by local businesses in the area. We need security, cleaning, IT support and distribution partners," she said.
"In deciding on who to work with, we prefer to partner with other small, local businesses as these businesses, like ours, are the engines for job growth in South Africa."
Blossom Care Solutions has two important channels to market: firstly, it uses commercial retail outlets like spaza shops, general dealers, pharmacies and regional and national key accounts; and secondly there is a channel composed of corporate partners, which buy pads that Blossom in turn hands out to deserving beneficiaries via the Blossom Beneficiary Programme.
Sarlie also acknowledged the importance of the partnership between Blossom and the Youth Employment Service (YES), which provides funding for staff salaries for the first year in each Blossom location.