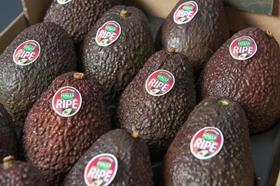 When Tracey Davies took over as CEO of South Africa-based avocado specialist Halls in May 2018, she could not have foreseen that her first few months at the helm of the company would be quite so turbulent.
For much of the past decade, the 125-year-old firm had enjoyed explosive growth, significantly increasing its production capacity and expanding its operational footprint in Europe and beyond.
Just a few months into her new job, however, Davies was facing a severely oversupplied European market and plummeting prices after a deluge of avocados arrived from Peru and South Africa.
"Many of my colleagues and industry partners have commented that I did not choose a good year to join the avocado industry and that I really should have joined four years ago," she laughs, acknowledging that the past year has been a steep learning curve.
"But the highlight for me has been appreciating the passion and the deep knowledge and real expertise that my team shares across the value chain, be it in our clonal tree production, aspiring to sustainable farming practices, developing specialised ripening methods for each origin and grower, or developing a real understanding of what our customers need."
Market forces aside, Davies is pleased with the progress the company has made over the past year. Sales of pre-ripened avocados in Europe have more than doubled and it has taken on new personnel and equipment to meet Europe's insatiable demand for ready-to-eat fruit.
As a fully vertically integrated company with its own ripening, packing and storage facilities in South Africa, Paris, Marseille and Rotterdam, Halls delivers fruit from its orchards all the way to its customers' door – a factor that enables it to respond swiftly to market trends.
To date the business has been very much focused on Europe, but it is now beginning to make inroads in new markets. It has just hired its first Chinese employee and plans to set up an office in the country in the coming months to explore the huge potential that exists for avocados in the region. Davies believes that her past experience in the region will be a big advantage.
"In my previous career I enjoyed building a solid business in China, and this involved making many mistakes along the way. I would very much like to limit these missteps in our Chinese expansion, but I'm sure a few will be inevitable," she says.
Although consumption in Asia lags a long way behind mature markets like Europe, Davies is confident that with a concerted marketing push and good quality fruit, the region will drive the next phase of growth in the global avocado market.
"The Chinese market is unique, with its own business practices and culture that will require a unique approach in itself. I believe that the first pillar of developing a marketing campaign will be educational and this will need to be two-fold: firstly focusing on the health and nutritional benefits of avocado and secondly on how to care for and prepare the fruit," she says.
On the supply side, meanwhile, with improvements in farming practices and the introduction of smart technology widening the scope of where and how avocados can be produced, the company is continually seeking out new origins. As well as managing some 1,800ha of farms in South Africa, Halls works with a well-established network of grower partners in Africa, the Americas and Europe in order to ensure a seamless supply throughout the year.
"We have concentrated on partnerships where there is a sweet spot in our climate and topography that will set our orchards up to produce beautiful avocados in the windows when we need them the most," Davies says. "When it comes to partnerships, a trusted relationship with people who are ethically aligned with our values is critical for me and our team."
In order to help the company provide the best possible service to its growers, Halls has developed its AvoCentral farm in South Africa. The facility serves as a testing ground for new farming techniques, rootstocks and sustainable practices that can be rolled out across its own farms and adopted by its grower partners.
At the end of 2018, the company launch its Avocademy, a centre of training and skills development providing structured programmes for members of its own business and those of its industry partners. It has developed a certificate, Avocado 101, comprising several modules of theoretical and practical training that will be followed up by a more advanced programme, Avocado 201, in the future.
The company also has its own dedicated team of experts, TeamQ, who travel the world helping its grower partners to raise the quality bar. "TeamQ are the experts in deciding where were source from and what regions would make the best investment opportunities," says Davies.