Move will extend company's global reach for table grapes
Shelf-life extension specialist Hazel Technologies has announced the registration of its flagship product, Hazel 100, in Peru.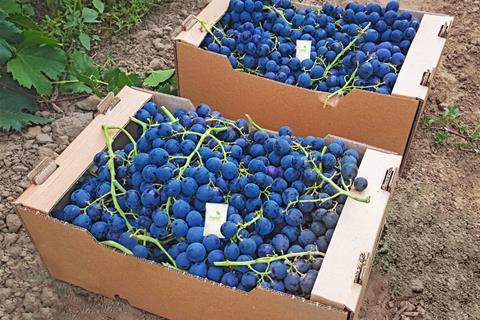 The company said the move comes at a pivotal time in the industry, driven by increased demand for Peruvian table grapes in the US following the impact of Hurricane Hillary in California.
Peru's export of table grapes has experienced a consistent upward trend since 2017, positioning the country as the world's largest exporter in this category. From 2022 to 2023, Peru exported over 70m (8.2kg) cartons, a 10 per cent increase compared to the preceding year.
Hazel 100 is a small sachet containing the active ingredient 1-MCP, designed for optimal time-release treatment of postharvest crops, placed directly into the produce case. Once Hazel 100 is implemented, it slowly releases 1-MCP and delays stem browning by mitigating senescence due to exposure to ethylene, resulting in greener stem tissue.
"Hazel 100 is a game-changer in postharvest crop preservation, and its benefits extend far beyond simplifying the treatment process," the company said. "The 1-MCP active ingredient is the key to providing retail customers with a better-quality product to turn around and sell, creating more opportunities to grow their business."
Tommy Caruana, director of business development for retail at Hazel Technologies, commented: "The ease of use and the impressive results of Hazel 100 create a win-win situation for both retailers and customers, making it a must-have for postharvest crop management strategies.
"For retailers, this translates into increased sales and customer satisfaction. With Hazel 100, customers are more likely to choose and purchase produce, confident that it will stay fresh for an extended period at home."
Hazel Technologies has a dedicated team in Peru, collaborating closely with local growers. With the completion of the registration process for Hazel 100, the company will continue to expand its operations on a global scale.
Commercial business development manager Aline Perales said: "Hazel 100 has been shown to help growers have more marketable fruit. Hazel 100 sachets can be a good tool, especially to use on premium quality grapes to have better arrivals and thus premium returns".