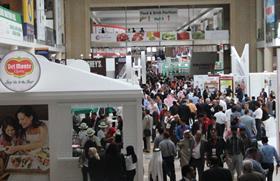 On 17-21 February, food and beverage exhibition Gulfood returns to the Dubai World Trade Centre in the UAE for its 24th edition, playing host to 5,000 exhibitors and 120 country pavilions, according to Food & Rest.
The theme for this year's event is 'The World of Good, the World of Food', the organisers revealed, featuring a number of new healthy food product launches. Health, Wellness & Free-From will be given its own showcase sector.
The MENA region's health, wellness and free-from food sales are set to rise by 7 per cent by 2023, according to market research group Euromonitor. This compares with expected global average growth of 4 per cent.
"The importance of nutrition has spiralled in recent years," said Trixie LohMirmand, senior vice president, Exhibitions & Events, DWTC. "The advice to 'eat well' is no longer just about keeping our bodies healthy. Eating responsibly also implies a sense of knowing what and when to eat, as well as an awareness of where food comes from and how it is produced. The backstory of products is becoming as important as tastes."
Consumers in the region are becoming more discerning, according to Euromonitor, prioritising fresh, natural products that involve minimal processing and choosing "products that make them feel good and lead to long-term health benefits".
Michael Wunsch, managing director of Barakat Quality Plus, which plans to highlight a new range of juices at the exhibition, said that consumers now "go beyond just the information on labels and actively research food and beverage ingredients to clearly understand the benefits and pitfalls".
"The sector needs to equip itself with the latest technologies for food research, packaging and environmentally friendly best practices for food waste management," he said.
Gulfood projected to forecast to attract around 98,000 attendees from 198 countries.