There is plenty of room for growth in the citrus category with the right messaging on health and nutrition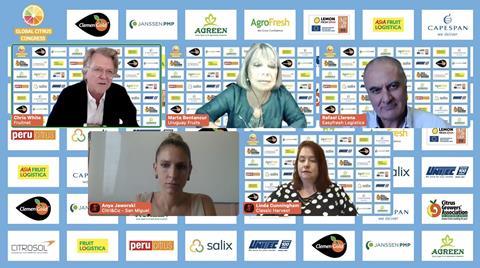 Inflationary pressure and logistical headaches are making life difficult for citrus suppliers. But the long-term outlook remains bright, with plenty of scope to grow the category through targeted promotions focusing on the health and nutritional benefits of regular citrus consumption.
This was the message from the 2022 edition of Global Citrus Congress, which took place on 30 November. More than 500 delegates from around the world registered for the annual online gathering of the international citrus trade organised by the World Citrus Organisation and Fruitnet Media International and moderated by Fruitnet's managing director Chris White.
Under the theme 'The outlook for citrus in unpredictable times', the free-to-register event featured a top line-up of industry experts discussing ways of bolstering the global citrus business as it navigates through the current challenging landscape.
The three-hour programme covered a broad range of topics, including logistics, marketing and sustainability. Setting the scene, the WCO's secretary general, Philippe Binard, and Eric Imbert of Cirad provided an overview of the Northern Hemisphere production forecasts for 2022/23 and current market trends. These show a 13 per cent contraction in volume to 25.96m tonnes due to high temperatures and drought impacting crop development in several Mediterranean countries. Only two Mediterranean countries, Greece and Egypt, will see an increase in production, the former by 10 per cent and the latter by 8 per cent.
Approximately 15m tonnes of citrus was traded in 2021/22, equivalent to around 21 per cent of the global fruit trade. Together, the European Union and UK account for 42 per cent of the global trade, making this the biggest market worldwide.
However, the rate of growth varies widely according to market and citrus category. Summer citrus – particularly soft citrus – has become a key driver of sales growth in the European and North American markets, while lemons and limes are also showing very healthy upward trend across the board. Imbert said Europe represents around 20 per cent of global trade in fresh limes, noting that with average per capita consumption of 300g, there is plenty of room for growth in this market.
In Asia, meanwhile, Chinese growth appears to have stalled since the onset of Covid. However, other markets like the Philippines, Thailand and Indonesia have made good progress in the last year.
The focus then turned to logistics. According to Richard Bright of Reefer Trends, there has been a big increase in demand for specialised reefer capacity since the start of the pandemic due to container carriers being affected by a shortage of equipment and poor service reliability.
Although the container shortage has eased in recent weeks, Bright predicted that container carriers will try to protect high freight rates. "As far as reefer vessels go, the fleet has benefited tremendously over past two years – they've shown they can offer a fast, dedicated and direct service, with good service reliability, whereas container carriers have really struggled," he said.
"I would imagine that cargo that defected to reefers from carriers over last couple of years will stay there, provided service is more important than price and premium for specialised reefers isn't too great."
In the subsequent panel discussion on how to curtail crisis and ensure the survival of today's citrus business, Rafael Llerena of EasyFresh Logistics echoed Bright's view, noting that "the pain will remain" and the sector should not expect to see a huge drop in reefer rates.
Marta Bentancur explained how higher shipping costs, connectivity problems and slower transit times are causing big problems for Southern Hemisphere citrus suppliers.
In spite of the current challenges, there are plenty of opportunities to expand the citrus category. Linda Cunningham of Classic Harvest said the US summer citrus market has seen a lot of growth in easy peelers and oranges as retailers embrace different sourcing options and intensify their focus on engaging with and educating consumers.
"The flavour profile of the fruit is so important," Cunningham said. "Promoting the fruit when it is at the peak of its season and communicating the different attributes of each variety to the consumer is really crucial."
San Miguel's Anya Jaworski pointed out that this is a great time for the trade to join forces and create generic marketing campaigns focusing on the nutritional aspects of citrus. Agreeing, Bentancur added that such promotions should be targeted at different segments of the population "to see how we can push consumption, particularly in countries where demand is lower".
Claudie Dhuique-Mayer of Cirad in France and Rosa Walsh of the Florida Department of Citrus outlined some of the studies being done into the health attributes of fresh citrus and 100 per cent citrus juice and their role in helping to reduce the risk of lifestyle-related diseases.
The research conducted by both is used to educate the general public, shape school meal programmes, inform health professionals including dieticians and physicians, and inform future research.
Helen Prosdocini of GlobalGAP introduced the organisation's 'Spring' add-on, which identifies and mitigates water risks in agricultural supply chains, helping growers to improve water management and supporting communication on such issues.
"Consumers want to know where their products are produced and in what conditions," said Prosdocini. "We originally developed Spring with Coop in 2018, but increasingly all European retailers are asking for water requirements for their producers. Since 2020, we have received big demand for Spring."