Organic bananas, avocados, mangoes and table grapes in the north of the country have been affected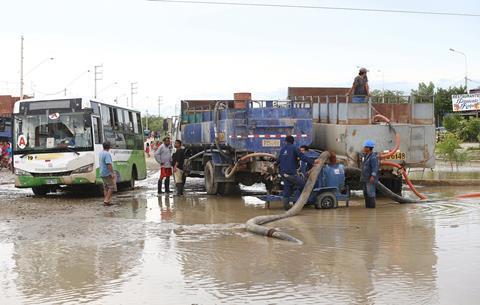 Heavy rains in northern Peru are affecting the harvesting of crops including mangoes, table grapes, avocados and organic bananas.
The intense rainfall brought by Cyclone Yaku could derail the country's goal of exporting US$10bn of agricultural products in 2023.
Manuel López, a professor at the University of Piura, estimates that total exports may be closer to US$9.5bn, a drop of 5 per cent, if the current conditions persist. As well as the losses to production, the wet weather is expected to increase the incidence of pests and diseases.
Climate experts have warned that if the wet and warm spell continues through April and May it could trigger an El Niño phenomenon.
Organic bananas are one of the hardest-hit products as it affects small producers rather than large agri-industrial companies. Reports in the local media suggest around of 500ha plantings under water.
In Lambayeque and Olmos, where avocado harvesting has just got underway, the humidity generated by the heavy rains makes the fruit vulnerable to attack by pathogens or fungi which have a detrimental effect on quality.
Juan Carlos Paredes, president of ProHass, said the rains are also impeding access to roads and farms and preventing the fruit from being picked. He estimates that around 300 containers of avocados have been prevented from being shipped.
"An avocado can be kept for a prolonged period of three to four weeks on the plant, but if a month goes by without it being picked, it overripens," he explained.
Paredes noted that if conditions worsen and El Niño is triggered, the expected 17 per cent increase in exports forecast for 2023 would be lower.
In mangoes, the president of industry association ProMango, Ángel Gamarra estimates that 15-20 per cent of the current crop has been affected. He said it is still too early to assess the impact of the rains on the export season.
"This problem adds to what mango producers were already suffering: due to the overproduction in the November harvest in some areas the frozen juice industry paid very low prices," he said.
Gamarra warned that the wet conditions could also affect the next mango season by delaying flowering. He estimates that mango exports could contract by 5 per cent this year from the 225,000 tonnes shipped in 2022.
While the main table grape harvest (September to January) is over, there are concerns that fungal outbreaks could impact the second harvest (May to July).