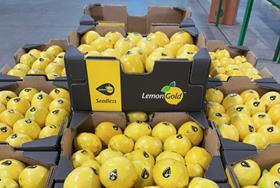 There are expectations in South Africa that seedless lemons could be the next big success story when it comes to citrus exported by the country.
This is partly down to a unique branding initiative by well-known South Africa producer and exporter, ANB Produce and Marketing (ANB-PM), which is planning to match consistent supply and availability with global retail requirements.
It is anticipated that the future fortunes for seedless lemons from South Africa will also be boosted by the new South Africa-China protocol, which should greatly enhance lemon exports from South Africa to the Far East.
ANB-PM said that its marketing strategy for seedless lemons was destined to resolve problems that exporters have had to deal with in the seedless lemon category in the past.
"The seedless lemon has been described as the holy grail of the industry,' the company noted. 'The global trend highlighting the health aspects of making lemons a part of daily life, has put the spotlight on this zesty fruit that brings flavour to almost any dish.
'It is sometimes termed 'the new salt' and for foodies who have experienced this seedless option, there is no turning back," the group continued.
ANB-PM is a South Africa-based company commercialising and marketing a variety of fruit brands, including the globally established ClemenGold mandarin brand.
its marketing approach brings together like-minded growers planting the cultivar in different parts of the world, with the aim of creating a constant supply of quality fruit. This supply is then channeled into select global retailers based on exclusivity agreements.
"Building a brand presence with a retailer requires commitment, and persistence, so this does require investment in marketing and taking a long-term view," explained marketing manager Adéle Ackermann.
"The branding of seedless lemons as LemonGold and strategic marketing support is winning over retailers and consumers alike. There is still work to be done to build supply and position the product in some retail groups, but we have made a promising start and consumers are increasingly embracing its seedlessness as a unique selling point."
Various retailers are currently stocking the product in branded format, she confirmed, with the opportunity for new markets for growers and retailers 'immense'.
"In addition, the signing of the new protocol agreement with China opens up new opportunities,' said Marius du Plessis of the ClemenGold International commercials and marketing team. 'Our footprint and established relationships with prominent Chinese importers and retailers with ClemenGold and Sweet C branded mandarins, provides us with exciting marketing possibilities to explore."