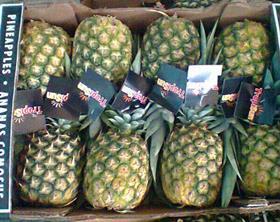 Netherlands-based importer Hillfresh International has formed an exclusive marketing agreement with its Panamanian pineapple producer, Agricola San Lorenzo.
Agricola San Lorenzo is based in the country's Chiriqui province on the western coast, where temperatures are relatively stable and where the plants do not go through a natural flowering period as in Costa Rica.
'In the coming period, Costa Rica will bring in fewer quantities due to their natural flowering,' said Hillfresh's Edwin Fillekes, 'and due to a strike that has been going on in the ports for two days.'
The Dutch company will therefore take Agricola San Lorenzo's entire production volume, receiving weekly loads of various sizes under two brands, Pacific Sweet and Tropisun.