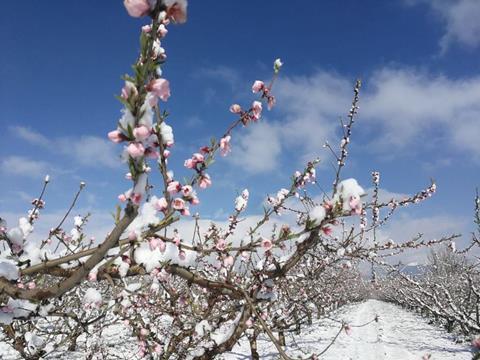 The icy wind known variously as the buran, the purga or, most recently, the Beast from the Easthas brought an unseasonable swathe of cold conditions to parts of Italy, creating problems for the country's fresh produce distributors and possibly jeopardising fruit production due to be harvested later in the year.
As reported by Italiafruit News, a sharp drop in temperatures coincided with widespread snowfall, notably on the Adriatic coast but also inland and as far south as Puglia, Campania, Basilicata and Calabria.
Around 1,500km of roads were adversely affected, particularly in northern and central parts of the country.Rome, which rarely sees snow, was also under a blanket of white yesterday.
Giorgio Mercuri, president of the Alliance of agro-food cooperatives, said the snowy period could have a major lasting impact on production.
'What worries the agricultural sector is not the snow, which feeds the aquifers, but the cold that follows it, as all the crops are in an advanced vegetative state," he explained.
"In the north of Puglia, for example, vegetables like broccoli, artichokes and fennel are in full production, while the almond trees have bloomed for at least fifteen days. For asparagus, then, we will certainly have a slowdown on the beginning of the harvest.
"If temperatures in the coming days fall below -5 or -6 degrees Celsius, the producers could suffer a lot of damage."
The same is also thought to apply to other regions of Italy most affected by the bad weather, including Emilia-Romagna, Marche and Abruzzo, where some orchards are already in bloom.
"At the moment," Mercuri underlined, "we are in the opening phase of the budding. If it does indeed fall below -11 degrees Celsius as the weather forecast says, Italy risks losing 60 per cent of its next spring and summer harvest."