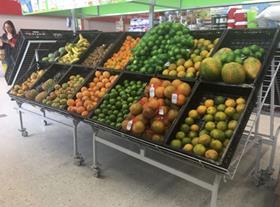 Ifco is celebrating its 30th anniversary, having first introduced its share-reuse-recycle model based on the circular economy in 1992.
Today, the company's reusable packaging containers (RPCs) are used in over 1.9bn shipments of fresh produce every year, which Ifco said reduced waste throughout the supply chain and demonstrated the 'clear benefit of a consistent, strong commitment to sustainability'.
Ifco was founded in Pullach, Germany, near Munich in 1992, and was the first company to apply the 'share and reuse' pooling model to the fresh-grocery supply chain.
'Throughout Ifco's 30-year journey, its reusable packaging solutions have enabled companies across the supply chain to maintain optimal food safety standards, significantly reduce single-use packaging waste, and lower their carbon dioxide equivalent (CO2e) emissions – all while maximising operational efficiency,' the group stated.
Compared to single-use packaging, RPCs cut CO2e emissions by up to 60 per cent, energy consumption by 64 per cent, water use by 80 per cent, and solid-waste generation by up to 86 per cent.

As recently announced, in 2021 alone, the use of Ifco RPCs enabled savings equivalent to more than 616,000 tonnes of CO2e – the same effect as removing 333,000 cars from the road for a year.
In addition, customers using Ifco RPCs kept more than 55,000 tonnes of food from being wasted last year, which is equivalent to 92m average meals.
Over the last 30 years, the use of Ifco RPCs enabled savings of over 3m tonnes of waste in the fresh produce supply chain, the group said.
"By pursuing our purpose, we can make a really positive impact on the environment, and this is what inspires everyone working at Ifco, every day," said CEO Michael Pooley. "With climate change, we are facing the greatest challenge of our generation, and we are committed to be part of the solution.
'Our 30 years of experience and our continuous drive to develop even more innovative solutions means that we are the right company that has the right proposition at the right time,' he noted. 'Our mission remains to make the fresh-grocery supply chain sustainable."
One of Ifco's main targets in the coming years will be supporting businesses in future-proofing their supply chains through digitalisation, the company explained.
As a result of these digitalisation efforts, Ifco aims to drive even more waste out of the fresh-grocery supply chain.