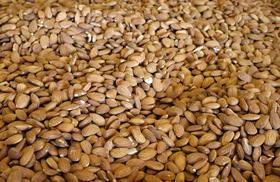 Importaco, Europe's leading nut and dried fruit producer, has expanded its agricultural integration programme dedicated to ensuring the responsible sourcing of its produce.
This year, the company introduced a new element to its farming integration project – established in 2013 – with the creation of its FEED agricultural programme.
The programme aims to align strategies and priorities across Importaco's different product-origin countries to guarantee the supply of raw materials with assurances relating to quality and food safety and the implementation of environmentally friendlier agricultural practices.
FEED sees Importaco carry out a rigorous process of risk assessment that includes monitoring agricultural situations, drawing up profiles for each crop, determining the risks related to the varieties of crop used, growing techniques, and the causes of crop defects.
As part of the FEED process it collaborates with farmers through business partnerships, training sessions, providing ad hoc support, and stipulating environmental and quality requirements.
Currently, FEED is being applied in Spain, Argentina, Chile, Peru, and China. In Spain, Importaco is working with more than 100 producers across 7,500ha; in Latin America the scheme covers 10 farmers and 10,800ha; and in China, 267 farmers and 1,132ha.
In total, FEED comprises agreements with over 450 farmers, covering 10,000ha of farmland, and affecting the production of 35,900 tonnes of nuts and dried fruit.
Being key Importaco products, peanuts and almonds are the major focusses of the FEED programme. The company said it is aiming for 100 per cent of its Argentinian peanuts to be responsibly sourced by 2023 and 100 per cent of its Spanish almonds to be responsibly sourced by 2025.
The FEED programme also involves the monitoring of sunflower seed and peanut crops in China, as well as corn crops in Spain.
Lucía Donnini, farm integration director at Importaco, said: "the implementation of the FEED programme is a crucial step towards more responsible agriculture, a step we are proud to be taking".
The company's president,Toño Pons, commented: "the FEED programme represents Importaco's genuine commitment to agricultural integration and thereby more environmentally friendly sourcing At Importaco, we take quality, sustainability, and supporting our farmers very seriously".
Importaco said the expansion of the programme to ensure responsible sourcing of its produce is proof how further commitment since the company joined the Sustainable Agriculture Initiative in 2019.