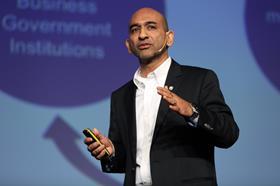 Germany-based urban farming network Infarm has announced the appointment of Sudhanshu Sarronwala as chief impact officer (CIO), joining from the World Wide Fund for Nature in Switzerland where he served as executive director for communications and marketing efforts.
According to Infarm, Sarronwala has long been an advocate for environmental conservation, and his leadership will be critical to helping Infarm create meaningful change in the modern food system.
'As the company's first CIO, Suds will lead Infarm's Impact Division which was formed to drive understanding of the tremendous health, sustainability and environmental benefits of Infarm's urban farms and the industry at large,' Infarm stated.
'Primary to the executive's portfolio will be efforts to ensure that Infarm is meeting its commitments in key areas of sustainability, governance and social impact across the company's global operations, with the goal of publishing the first annual Infarm Sustainability report in 2022.'

With operations across ten countries and 30 cities worldwide, Infarm harvests 500,000+ plants monthly and growing while using 99.5 per cent less space than soil-based agriculture, 95 per cent less water, 90 per cent less transport and no chemical pesticides.
To date as part of its operations, Infarm has saved more than 40,000,000 litres of water and 50,000 square metres of land as it aims to create new standards in agriculture.