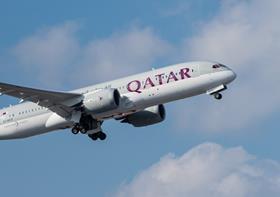 Iran has sent five planes each loaded with 90 tonnes of food to Doha airport in an effort to relieve the impact of the blockade imposed against Qatar by Saudi Arabia and other Gulf countries, according to CNN. Three ships carrying 350 tonnes of food are also set to leave Iran.
Saudi Arabia, the UAE, Bahrain and Egypt cut links with Qatar last week, on the grounds that the country supports and finances terrorism, although Qatar has strongly denied the charge.
The ban has led to food shortages across the small Gulf nation, which is largely dependent on imports from neighbouring Saudi Arabia and via ports in the UAE, provoking a panicked run on supermarkets. According to Qatar's foreign minister, 16 per cent of the country's food supplies are usually transported across its land border with Saudi Arabia.
Iran, whose friendly links with Qatar are seen by many analysts to be central to the dispute, revealed plans to send close to 100 tonnes of fresh fruit and vegetables every day to Qatar, according to Tasnim news agency.
Qatar has also begun shipping cargo through Oman as a means of bypassing restrictions. Instead of stopping at ports in the UAE, where cargo would then be loaded onto smaller vessels, direct services to Sohar and Salalah are now reportedly operating three times a week.
The BBC reported that the world's largest container shipping line, Maersk Line, had stopped supplying Qatar since its so-called 'feeder' vessels could no longer transport cargo between the UAE and Doha. The company said it would accept new bookings for feeder shipments from Oman, with the first vessel scheduled to depart from Salalah on 19 June, arriving in Doha on 25 June.
Chinese shipping line Cosco announced that it was suspending services to Qatar despite the emergence of this new route.
One source working for a Dutch company supplying fresh produce to the Middle East told Eurofruit that it had been forced to do more sendings direct as a result of the issue.
'The situation is complicated for exports to the Middle East as a whole, because we normally ship our produce exports to countries in the Gulf via Doha," the source revealed. "What we are having to do is get more consignments into those countries direct. At the same time, what's also happening is that demand for product direct into Qatar itself has increased. The impact is quite a lot of disruption, but in the end it's an interesting challenge and one that we need to deal with by being as agile as possible.'
Supplies of Zespri kiwifruit to Qatar have also been affected, according to regional market manager Ben Hughes. "Our containers to Qatar tranship through Jebel Ali Port in Dubai and have now been redirected to other markets," he said. "We are hopeful that the current situation will be resolved and normal service can resume."