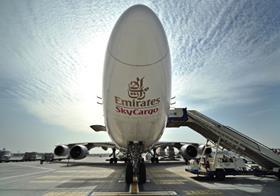 Leading airfreight specialist Emirates SkyCargo will be adding further momentum to a recent increase in trading through Iraq with the launch of its new service to Basra on 2 February.
As part of the service, Emirates SkyCargo will be transporting 130 tonnes of freight per week between Dubai in the United Arab Emirates UAE and Iraq's largest port, which is strategically located close to key oil fields.
In addition to transporting equipment for oil and petrol companies, the service will carry a diverse range of goods including perishable foodstuffs, medical products, electronics, textiles, garments and car parts.
Goods travelling in the other direction, to destinations including the US, China, India and the UK, will include, among other things, Iraqi dates.
'With many multinational companies committed to the redevelopment of Iraq's economy and infrastructure, the trading potential is very clear,' said Ram Menen, Emirates' divisional senior vice-president, cargo. 'Iraq's recovery is already well under way and this new trade route will create further opportunity for growth, with businesses now able to establish trade links with the UAE and the other 65 countries on our global network.
'The US and Europe are key trading partners with Iraq and we expect to capitalise on this through our 25 European destinations and services to Houston, San Francisco, LA and New York,' he added. 'In addition, with speedy delivery guaranteed to hundreds of other points through an extensive network of interline and overland freighting partners, Emirates SkyCargo looks forward to connecting Iraq to the world and contributing to its continued growth.'