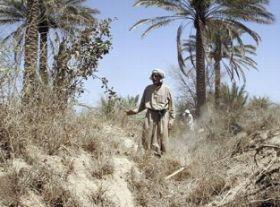 According to Iraq's water minister, Turkey has not followed through on its agreement to supply the country with the water it desperately needs.
Iraq has been suffering from a drought for nearly three years, a situation exacerbated by Turkey's hydroelectric dams in the Euphrates River, which restrict water flow to Iraq.
Now that Iraq has reached the height of its agricultural season, it needs the water in order to carry out its harvesting plans.
"We have made our request through the proper official channels and through our official meetings with Turkey," said Dr Abdul Latif Rashid, Iraqi Minister of Water Resources. "But unfortunately the amount of water which we have requested from Turkey has not reached us. Because of the reservoirs and dams which are built in Turkey, our share of water has decreased drastically.
"The middle and south of Iraq are suffering a severe drought, and now it is the season of agriculture, but we don't have sufficient water to have our agriculture plans implemented."