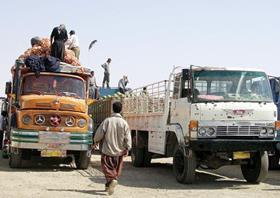 According to a report last week in the Guardian, Iraq has introduced a temporary ban on vegetable imports from countries including Turkey, Iran and Syria as a means of boosting the war-torn nation's neglected farming sector.
"The ban began on May 1," Subhi al-Jumaily, a senior deputy agriculture minister told the newspaper. "We don't want to shut off imports completely but want to arrange them through official agreements for all different food items."
The vegetable import ban will reportedly be in place whenever Iraq's domestic supply is deemed sufficient, and will be lifted for foreign purchases if there is a shortfall.
Farmers and manufacturers in Iraq have bemoaned the flood of cheap imports since the toppling of Saddam Hussein by 2003's US-led invasion and subsequent opening-up of the country's tightly controlled economy.
Abdul Rahman al-Mashhadani, of Baghdad's al-Mustansiriya University, stated that Iraq currently imports 90-94 percent of all its food, and 60-70 percent of its vegetables.
However, Hadi Abuseedo of Dubai-based importer-exporter Abuseedo Trading told Fruitnet.com that Iraq simply cannot afford to close its borders to fruit and vegetable imports. "If they closed them, people would starve," he said. "There are 100-150 containers of vegetables, such as cucumbers, coming into Iraq from countries like Syria, Lebanon and Jordan every day. They cannot close the borders, as there is no way domestic production can feed the local population."
Mr Abuseedo revealed that Iraq's borders were recently closed to imports but only very briefly. "They reopened after a couple of days," he said. "The reason for the closure was a swine flu scare across the border in Kuwait. That was what we heard."