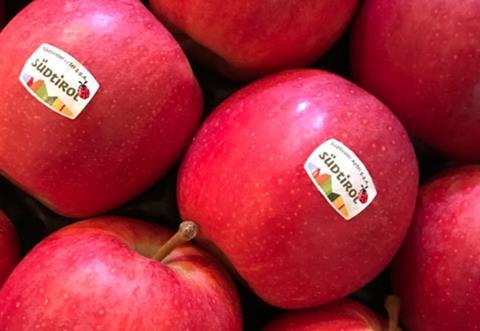 Italy's apple industry is two steps closer to achieving trade access to the Taiwanese and Vietnamese markets in time for next season, following the visit of two separate inspection teams from those respective countries to export facilities in key producing regions.
During the first week of October, two representatives from Taiwan's phytosanitary inspection team visited Piedmont-based Rivoira Giovanni & Figli, as well as two exporters in Trentino-South Tyrol, VI.P Val Venosta and Melinda.
With assistance from Italian apple organisation Assomela and Ferrara-based agency CSO Italy, as well as the country's own regional and national governments, trade group ICE and local phytosanitary services, the officials were able to move closer to formulating a bilateral protocol that would see present non-tariff barriers to the Italian apple trade in Taiwan lifted.
Similar progress is being made, meanwhile, for apple exporters hoping to land their fruit in Vietnam, following a similar inspection mission on the part of Vietnamese officials from 18-22 September.
Those inspectors also visited Rivoira in Piedmont, as well as Salvi Unacoa in Emilia-Romagna and Vog in South Tyrol.
"The inspectors who visited Italian apple companies were able to feel with their own hands, from the field to the packhouse, our production model, which is one of the best organised in the world and one that can offer quality apples while guaranteeing it will respect the conditions demanded by Taiwan in order to access that market," commented Assomela director Alessandro Dalpiaz.
When it came to Vietnam, meanwhile, he noted that France and Poland had recently gained access to an apple market whose imports are traditionally dominated by China.
"Th Vietnamese are watching apples from the EC with interest and, in this context, Italy offers significant advantages; differentiation in terms of its varietal offer compared with competitors and the quality of our product are fundamental factors which play in our favour when it comes to apple exports to Vietnam, and the other countries of South-East Europe, which we hope to be able to reach with our product in the near future."
Simona Rubbi, who is responsible for developing access to new markets at CSO Italy, commented: "In terms of security, standards and traceability, the Italian apple system is certainly going in the direction Taiwan wants, so we hope the conditions imposed by the Taiwanese authorities for Italian apple exports will enable Italian operators to work without too many complications."
For Vietnam, meanwhile, gaining access for Italian apples is likely to see the door open also for kiwifruit and pears.
"The current activity around apples will definitely be important as a starting point to speed up the negotiating process for the entry of other products into Vietnam," Rubbi added.