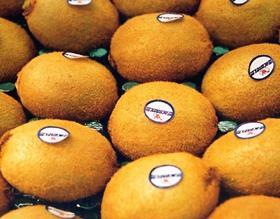 Although Chile's kiwifruit producers have forecast a 179,000 tonne harvest this season, slightly higher than normal, just 127,000 tonnes have been exported so far this year through to week 26.
The result is that there are now 52,000 tonnes (5.2m cartons) being held in Chilean coldstorage facilities, a 60 per cent jump on the corresponding period of 2008, according to fruit analysis and services company IQonsulting.
These high coldstorage volumes are being put down to greater kiwifruit yields in Italy, along with a slower market and greater yields of fruit suited to storage.
"Volumes this year aren't significantly greater than normal," said Gerardo Cubillos, trade director at Chile-based kiwifruit export firm Trinidad. "The big factor has been the 30 per cent increase in Italian production – there were stocks of Italian fruit until just a few weeks ago.
"The increase in Italy was equivalent to about half of Chile's total production, so the reality this year is that it has been a very complicated market," he added. "We had a lot of early fruit, but there wasn't really a market for it and prices were low – obviously it has been the overproduction in Italy that has created problems."
Kiwifruit exporters have reported that their fruit's pressure has developed at a good rate while sitting in coldstorage, but have expressed concerns that once out of coldstorage it may lose firmness.
Sizes, meanwhile, have registered in the 30-33 range, with some exporters heavy with volumes of 36-size fruit, which could cause difficulties at the season's end.
"Taking into consideration the high volume of fruit yet to be exported, the general market preference for larger-sized fruit, generally weaker-than-normal market demand and the shelf-life expectancy for the fruit, we think Chile's exporters will have to move with great care in order to assure profitability," said IQonsulting CEO Isabel Quiroz.
She added that the industry may turn to the domestic fresh and agro-industrial markets to help deflate the pressure created by higher stocks.
Mr Cubillos disagreed, however, saying that prices dictate that "100 per cent" of the kiwifruit will have to go for export.
"Chile's internal market is small, but a natural extension of our internal market is the rest of Latin America," he said. "This season there will most certainly be more kiwifruit sent to this market.'